Terry Cutcliffe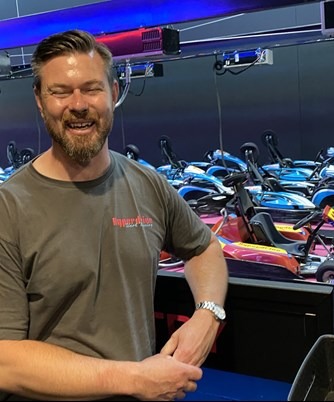 Pictured: Terry Cutcliffe
Terry Cutcliffe - Business Owner
Hyperdrive Kart Racing opened in Kingston on the 12th of January 2020, and had it's Grand Opening last week. Hyperdrive is an indoor go-karting track run by three brothers: Terry, Steven and David Cutcliffe. We spoke to Terry to find out the story behind Tasmania's first indoor electric go-karting track.
David first suggested the idea of electric go-karting to his brothers when brainstorming a new career path. The brothers realised electric go-karting was something they'd love to do, and wished it was available in Hobart. They decided that if they didn't make an electric go-karting business, no one else would.
Hyperdrive Kart Racing isn't Terry's first business, he previously opened club K9 on Argyle St. Terry's advice for people wanting to start a business is 'just go for it.' He says it's important first to research, get good advice and make sure the idea is viable; but after that, it's time to just go for it. He believes perfectionism is unnecessary to start a successful business, it's more important to get started and learn along the way.

'Just go for it'

Hyperdrive Kart Racing currently has an indoor track protected by a world-leading protex safety barrier system. The brothers are adding an outdoor track later this year which will be almost double the size of the current track. The brothers are planning on operating these tracks separately but having the option of combining them to increase racing options.
The brothers have even more plans to expand their business and karting options. In March, Super Karts will be introduced with exclusive licences available for those who can race fast enough in the current karts.
Steven is currently working on software to gamify the go-karting experience. This will enhance the go-karting experience by allowing racers to collect digital items and use them against other racers. For example, one item is planned to temporarily slow another person's kart when activated.
It is the brothers' first time running a business together, and they couldn't be happier. Terry says working his brothers is great; they are all good friends, talk honestly and openly, trust each other and always have each other's best interests at heart.

'We get along well. They are great friends and business partners'

If you want to try the hyperdrive experience you can find them at 22-24 Mertonvale Circuit Kingston. This new business is already extremely popular so book online at https://hyperdrive.racing/ to avoid disappointment. For those who don't want to join in the race, there is a great range of classic arcade games. The Hyperdrive café serves hot and cold drinks and a range of local baked goods.
See more Blog items