Susie Flanagan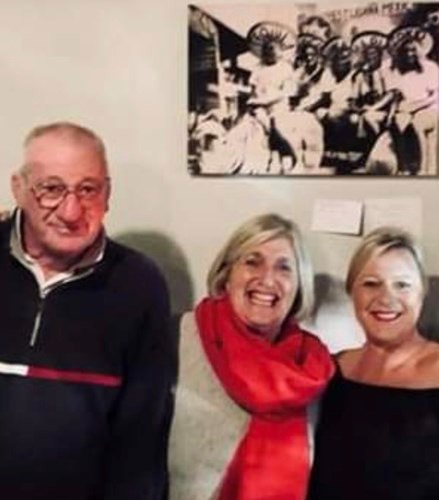 Pictured: Graham, Donna and Susie Flanagan 
Susie Flanagan - Restaurant Owner
Tacos Mexican Restaurant is a family business. The Flanagan family bought Tacos Mexican Restaraunt in Battery Point in 1998 where it became so popular that they had to move to the silos in Salamanca to expand the restaurant's capacity. Tacos then closed its doors for eight years before reopening in Gibson's Mill in April 2018. The new location has the best bits of silos and battery point; its big enough to accommodate the restaurant's popularity but maintains the homely atmosphere of the original Battery point restaurant.
Susie has been working with her parents, Donna and Graham Flanagan since the restaurant opened. We spoke to Susie about what it's like running a hospitality business, working with parents and how she keeps a work-life balance while working with two kids.
Despite running the business together Susie rarely works the same shift as her parents; her parents work day shifts and she takes over from them in the afternoon. Susie thinks working separate shifts makes it easier to run the business together. She also thinks it is important to have distinct roles and for one person to be in charge. The worst part about working with family is that they constantly want to discuss the business, even in their time off. Susie says it is essential for a family wanting to start a business to work well together and trust each other.

'It's positive and we have a great relationship.'

Susie has always had a passion for hospitality. She studied at Drysdale and worked in hospitality around the country before her family took over Tacos in 1998. Susie says the best part of working in hospitality is spending time with people and making them happy. During the restaurant's eight-year hiatus Susie always wanted to re-open her family's restaurant.

'This is my passion. I love my job'

Susie works full time running a business with two young children: aged three and six. She says it wouldn't be possible to be away from her children if she did not have a passion for her job. She thinks that a support network is the most important thing for working mums. Susie's husband gives her this support and has stopped working to be a stay at home dad. Susie says the hardest part of working with young children is missing bedtime. Working late is a trade-off though because it means Susie gets to do her daughters hair every morning and spend the day with her son.
Her advice for other working mums is to give yourself a break. Don't feel guilty for sleeping in on the weekend and take time for yourself. Susie has started walking to work every day to have some me-time and get more exercise. She says exercising and allowing herself to take a break when needed stops her from burning out she can enjoy the time with her family. They also try to regularly go away on short holidays to have a break together as a family.

'Don't feel guilty and take time for yourself'

The Tacos menu has stayed the same since the Flanagan family started their business 20 years ago. Susie's favourite dish is the sizzling fajitas which come out of the kitchen sizzling and smoking and catches the entire restaurant's attention. Susie aims to make Tacos an experience, not just dinner.
Tacos is famous for great service, quality food and large portion size. Tacos are open from 5 pm to late seven days. They have happy hour every night from 5-7 and $5 tacos on Taco Tuesdays. If you want to experience Tacos you will find them as 11 Morrison St, Hobart. To book ahead call (03) 6223 5666.
See more Blog items