Sava Kakkos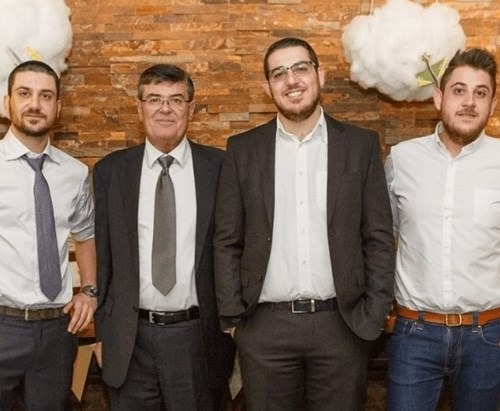 Pictured: George Kakkos, Tony Kakkos, Nicholas Kakkos and Sava Kakkos.
Sava Kakkos - Restaurant Owner
Sava Kakkos is a successful young business owner who runs the popular Hobart restaurant Urban Greek. Urban Greek is a family business, initially started by Sava with his father and brother. We spoke to Sava about the transition to running the business without his father, advice for working with family and what it's like running a hospitality business.
Urban Greek is one of Hobart's most popular restaurants and is currently second on TripAdvisor. Sava Kakkos started Urban Greek with his father and brother. Since opening, his father, Tony, has left the business and Sava now runs Urban Greek with the help of his brother and wife.
The transition from running the business with his father to running it on his own was difficult. Sava's father used to be responsible for sourcing products and negotiating prices. Sava then had to take over these responsibilities.
The Kakkos family have always worked together, in Greece and at their previous business in Hobart. Running a family business together has led to many disagreements; Sava says this is because it can be difficult to communicate with the family you work with.
This family have learnt how to make it work and have given some advice for other families wanting to start a business together. The family picks one person to be the boss; this is who should speak to customers, speak to staff and make the decisions. Sava also thinks it is essential to keep family and business separate. He says trusting your family is essential to running a successful family business. Trust is also a benefit of working with his family; When Sava takes time off he knows that the restaurant is in good hands with his brother.
Sava's wife, Mary, helps him run Urban Greek. He thinks similar boundaries are needed when working with your partner as are needed when working with family. They make sure to keep business separate from home life and aim to forget about the business when they get home. They also each have different strengths, so they have separate responsibilities.
Urban Greek only use quality ingredients; it must either be authentic Greek or local Tasmanian produce. This determination to use only the best quality produce creates a challenge of balancing produce costs while keeping their menu affordable.
Sava thinks that one of the biggest challenges of running a business in the hospitality industry is finding and retaining staff; because many hospitality workers do so on a casual basis and don't view it as their career. An additional challenge faced by Urban Greek is finding Greek kitchen staff so food can be created authentically. Every dish on their menu is made with love and care, following old family recipes that have been passed on for generations.
Sava also shared with us some tips for anyone wanting to start a business in the hospitality industry. He says having a plan, a good location and finding a chef before opening is essential to success.
Sava believes that the secret to Urban Greek's success is treating customers like family. Greek food is considered a social and sharing experience, where dishes create the centre around which friends and family gather.
Urban Greek is located at 103 Murray St in Hobart. To book yourself a table call (03) 6169 1129 or visit their website http://www.urbangreekhobart.com/. 
To read how Urban Greek are responding to the COVID-19 crisis click here.
See more Blog items