Sarah Hooper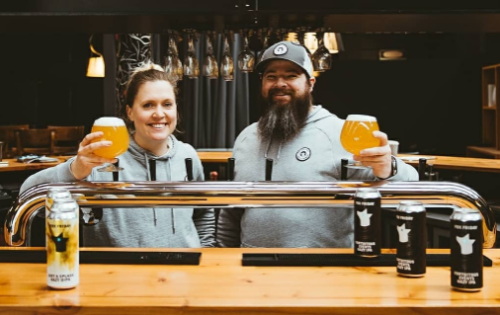 Pictured: Sarah and Benn Hooper
Sarah and Benn Hooper purchased Fox Friday Craft Brewery in March 2019. At the time, they lived in Western Australia and had never been to Tasmania. When they saw the opportunity to purchase Fox Friday, they jumped at it and moved to Hobart with their two daughters.
Benn has been home brewing beer since he was eighteen. While living in Texas, he gained all-grain and commercial experience, which inspired his dream of owning a brewery. Purchasing Fox Friday allowed Sarah and Benn to work together for the first time. For Sarah, the best part of working with Benn is getting to see a different side of him.
Fox Friday brew American-style beers in Moonah, where they originally had a combined brewery and taproom. When the COVID-19 pandemic hit Tasmania, Fox Friday had to close their doors, can their beer and open an online store.
Sarah and Benn did not anticipate the success of their online store. It allowed Fox Friday to reach customers interstate, who fell in love with their hazy IPAs. This drastically increased their customer base with 75% of sales shipped interstate. One beer, the Oatlands Oat Cream IPA, sold out in just eight minutes.
Due to social distancing restrictions, the Moonah brewery could not reopen to the public. Sarah and Benn had wanted to open a second location for some time, but the pandemic meant that they had to do so quickly. At the start of November, the Fox Friday Taproom opened at 105 Murray St.
The Fox Friday Taproom has an extensive range of beers and food. Sarah recommends the Boudin Balls and the Just a Phase Oat Cream IPA. For those who do not drink beer, Fox Friday stocks a numerous alcoholic and non-alcoholic beverages from local businesses.
The Fox Friday online store is currently sold out. To keep up to date with future re-stocks, make sure to follow Fox Friday on social media.
Sarah and Benn plan to expand their brewery so they can reach their interstate customers. For now, their focus is on the new taproom and creating events for the community. Fox Friday are currently finalising events for the festive season and planning numerous events for 2021.
Keep up to date with the Fox Friday Taproom on social media:
See more Blog items