Jarrod Nation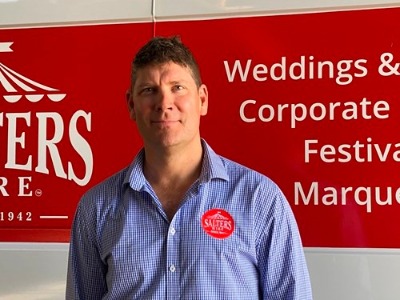 Pictured: Jarrod Nation
Jarrod Nation is a successful businessman, entrepreneur and the owner of Salters Hire. Jarrod grew up in Tasmania and moved to Melbourne at 23. While there he created numerous startups with business partners which were sold to private equity. Jarrod views this as his biggest career achievement because private equity firms only purchase quality businesses.
'My biggest career achievements would be the startups, building something from nothing and selling it to private equity.'
After Jarrod sold the last startup business, he took eighteen months off then moved his young family back to Tasmania. The purchase of Salters Hire soon followed. Jarrod bought an existing business, instead of another startup, due to the work-life balance it allows.
Jarrod views the purpose of a startup and a hallmark of successful businesses is the solving of a problem. When taking over Salters Hire this meant identifying and solving problems faced by staff and customers. To do this, Jarrod worked in numerous roles to fully understand customers' problems and needs. Jarrod and his team are always alert for changes in customer these needs, which means that Salters Hire always has the latest products.
'The first step in creating a startup is asking yourself 'what problem am I solving here?'
Salters Hire had been in North Hobart since 1940 but Jarrod has relocated the business to Mornington, to double the amount of space. This has improved operational logistics and allowed them to increase their product range. Jarrod also created a website where customers bookings of hire furniture and equipment can be done online. To visit the Salters Hire website click here.
Salters Hire aims to give clients what they want, and all staff share the philosophy and are empowered to put the customer first.
'If that is what the client wants, that is what the client gets.'
Jarrod employs a large team at Salters Hire so he can enjoy a work-life balance. The large, capable team also allows Jarrod to focus on business development.
'Your business has got to work for you.'
Jarrod ensures his team also enjoy work-life balance by limiting the weekend work they do. Engaging specialist RSA certified bar staff to work events that require bar service is an example of how the company can provide a full range of services over weekends without impacting on its personnel.
Jarrod has two pieces of advice for business owners. The first is always be genuine and authentic. The second is to have a few trusted advisors to bounce ideas with. These advisors should include accountants and lawyers you can trust to be critical of your ideas, play the devil's advocate and offer advice.
'You need good people around you.'
Salters Hire has an extensive range of event equipment available to hire, which is the largest range of furniture for short-term hire in Tasmania. They provide a fully functional bar service including RSA qualified staff, alcohol, and bar equipment for any event. So, whether you are planning a wedding, a corporate event or anything in between, Salters Hire can take care of what you need.
To learn more about what Salters Hire can do for you, telephone (03) 6234 8687, email hire@salters.com.au or check out their website.
See more Blog items