Janelle Larkin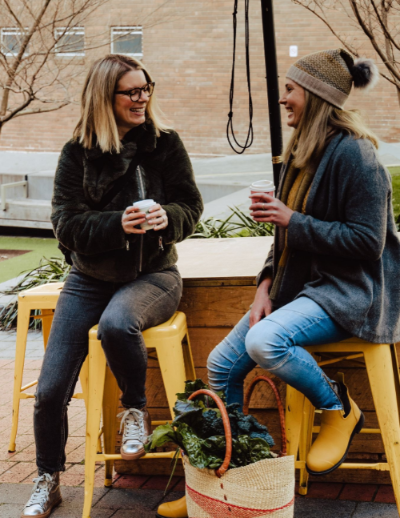 Pictured: Sarah (left) and Janelle (right). Photograph by Sally Medwin.
Janelle Larkin - Business Owner & Entrepreneur
In response to the COVID-19 Pandemic, Janelle Larkin started her business Buy from Tasmania to connect local vendors to buyers online. The COVID-19 pandemic has made it more important than ever to buy local, but physical distancing measures have hindered peoples' ability to buy and sell local products. Janelle was in the fortunate position that her business, Fulcrum Robotics, was not affected by the pandemic and wanted to help those businesses who were.
Initially, Janelle created social media accounts called Plug a Business Tasmania, which allowed vendors and customers to promote Tasmanian businesses. Following this, Janelle identified a need for a long term, structured way to sell and buy local goods and services online. This prompted Janelle to contact Sarah from A Lined Design to create the Buy from Tasmania website.
Businesses can sell their products directly through the Buy from Tasmania website, or direct potential buyers to their company's website. This makes it suitable for companies wanting to sell products online and those wishing to expand their online presence. Buy from Tasmania is a social enterprise which takes no commissions from purchases through the website and listings are free until December. To set up an account on the Buy from Tasmania website, click here. The process is simple, and Sarah and Janelle have created lots of resources to help you get your online shop up and running as soon as possible.
The website is currently supported by Fulcrum Robotics, Bendigo Bank and A Lined Design. If you would like to support Buy from Tasmania, please contact Janelle at hello@buyfromtasmania.com.au. Your support will help keep Buy from Tasmania running and allow the businesses most affected by the pandemic to keep their listing for free after December.
Janelle's authenticity and friendliness created an online community that people wanted to be a part of, which has resulted in a large social media following and numerous listings on her website. Consumers and vendors can access the Plug a Business Tasmania Facebook page. Consumers can use it post reviews and recommendations of local businesses, and business owners can use it to promote their business and connect with the community. The Plug a Business Tasmania Instagram is used to promote the companies listed on the Buy from Tasmania website. Janelle has received an outpouring of appreciation for the community she had created, with many struggling business owners saying that it was a ray of light during such a difficult time. To join the Buy from Tasmania community, click here.
Janelle is currently a business owner but believes every career she has had has set her up to create Buy from Tasmania. Janelle has been helping people her whole life; from working as an oncology nurse to running charities. She believes every job teaches you important skills and the most valuable thing you can do is to combine these skills to support each other.
Janelle has four pieces of advice for entrepreneurs:
When you do make it, remember where you came from and support others.
Make sure you have a good accountant.
Be giving of yourself and your time.
Always be your authentic self.
Janelle is a finalist in the AusMumpreneur Awards for creating Buy from Tasmania. To show your support and appreciation, you can vote for Janelle here.
Janelle is continuing to expand Buy from Tasmania. She is hoping to receive a liquor licence soon to help support local wineries and distilleries to sell their products online. She has also recently added a services section to their website.
If you want to support local businesses, click here to browse the Buy from Tasmania website.
See more Blog items