Harry Coomer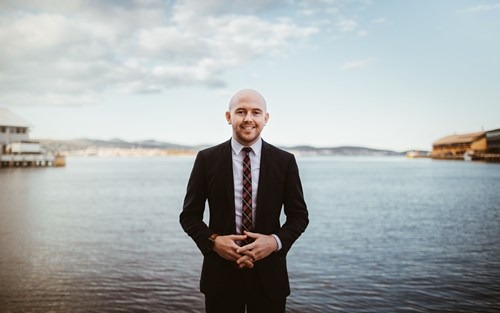 Pictured: Harry Coomer
Harry Coomer - Real Estate Agent
Harry Coomer is a successful young Tasmanian who works as a real estate agent at Charlotte Peterswald for Property. Harry's parents own a successful Tasmanian business 'Trees are us.' Harry's father, Julian Coomer, has thirty years' experience as an arborist and his mother does the administrative and bookkeeping work for the family business. We spoke to Harry to find out why he chose not to join the family business.
Harry originally wanted to follow in his father's footsteps. Harry became interested in other career paths when he started working part-time jobs during high school. These jobs progressed into sales where Harry found his passion and decided to pursue sales on a large scale, in real estate.
Harry's parents influenced his career by showing him the importance of hard work. Harry works hard every day, just as he saw his father do. He believes that this is one of the secrets to his success. Harry also believes his success is because he thrives off pressure and never thinks he knows it all. Harry's attitude is that everyone has something to teach and he will always have something to learn.

'Make sure I give every day everything'

Harry's parents have an interest in investing in properties, so Harry grew up with an understanding on the industry before choosing it for his career. Harry had the opportunity to explore this interest during school. In Grade Ten Harry was given the opportunity to do work experience at Raine & Horne. Following this, he worked towards his property licence. This required him to do night school in addition to his regular school load. After attaining his property licence he was given a scholarship and achieved his Diploma of Property (Agency Management) through the Real Estate Institute of Tasmania (REIT). This diploma gives Harry the title real estate agent.
When Harry first got his diploma they were a rare qualification. Throughout his career he has seen an increase in the number of young people entering the industry who have achieved the diploma or similar qualification through REIT. Harry believes a young person wanting to enter the real estate business should get a qualification. He also thinks it is important that young real estate agents entering the business do so with a need to care for their clients.

'Doing the right thing and looking after people is important'

Harry originally believed he needed to start his own business to achieve real estate success. He has since decided that it would be more challenging to work his way up in an established business than to start his own. Harry aims to become a director at Charlotte Peterswald for Property one day.
When asked about his biggest achievements in his career Harry evaluates his success based on how well he has helped his clients. He always aims to help his clients get the best price for their asset.

'The things I've enjoyed the most are helping families'

Harry believes that not having a parent in the industry created a challenge when he was starting out. However, this has not had a long-lasting impact on Harry's career. Harry's parents influenced his career, despite him choosing a different industry. His parents' experience in the property market influenced Harry's career choice, and the work ethic they taught him has contributed to his success.

If you're looking at buying or selling a house call Harry Coomer on 0448 544 100. To find out more about Harry visit his webpage https://charlottepeterswald.com.au/staff/harry-coomer/.
To read how Harry is responding to COVID-19 click here.
See more Blog items