Grant Chisnall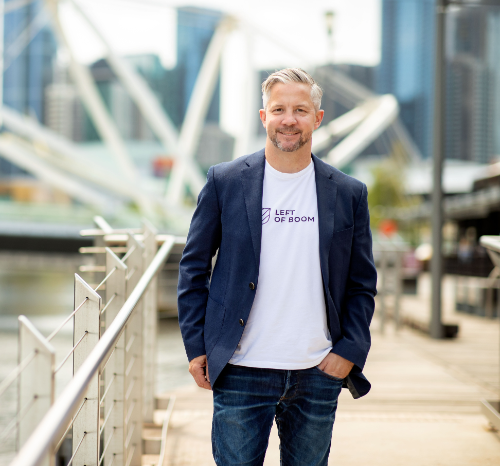 Pictured: Grant Chisnall
Grant Chisnall - Crisis Advisor.
Grant Chisnall is a Crisis Advisor, Trainer, Podcaster and founder and CEO of Left of Boom.
Located in Melbourne, Australia, Grant helps prepare leaders to deal with any situation that may threaten their people, operations, or reputation worldwide. Left of Boom assists in empowering leaders to prevent, pre-empt, detect, and respond to emerging threats with confidence.
Grant is a veteran who has applied his military skills of planning, leadership, and training to the business world. He brings a unique mix of stakeholder management and understanding of contemporary risks to empower business leaders to manage risk proactively and with confidence.
COVID-19 has provided significant challenges to businesses who have had to deal with business continuity impacts alongside the safety and wellbeing considerations for their workforce and the community. At the same time this year, he has also supported a client affected by Tropical Cyclone Harold in Vanuatu and Fiji, and another client who has been struck twice by cyber attacks.
Grant hosts a podcast called Crisis Talks, inviting crisis leaders to share their stories of leadership and resilience in the face of adversity. Interviewees include Matt Gill, the former Mine Manager of Beaconsfield Mine; Earl Eddings, the Chairman of Cricket Australia; Tim Walmsley from BenchOn; New South Wales Senator Jim Molan; Inspector General for Emergency Management in Victoria, Tony Pearce, and the most recent episode features the Director of Emergency Management for Ambulance Victoria - Justin Dunlop. These podcasts can be found on Spotify, Apple podcasts and Podbean.
"Having worked on major crisis events such as the Sundance Aircrash and more recently through two Global Cyber Attacks, I've witnessed first-hand some amazing leaders working under extreme adversity. Despite minimal formal crisis management training, these leaders use their values, their technical competence, and their understanding of their industries to work their way through extremely complex crises. Crisis Talks is an opportunity to share their stories so we may all learn from their experiences."
To learn more about Grant, connect with him online.
Facebook: https://www.facebook.com/leftofboom/
LinkedIn: linkedin.com/in/grant-chisnall/
Podcast Link: https://leftofboom.com.au/crisis-talks-podcast/
In response to COVID-19, Left of Boom has provided support to help businesses navigate through these extremely challenging times. To read more about this support click here.
See more Blog items